If you want to know which equipment you bought before you entered the race, click your boat then pay attention to the icons located in the bottom left corner of the menu that just opened. Their color tells you what you equipped your boat with.
This is what you see if you have no equipment: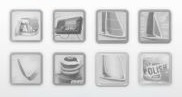 In the case below, every piece of equipment is enabled, minus custom paint (the 1st icon is stilled greyed out).