The energy of a skipper is related to its overall condition. You are 100% filled with energy at the start of a race. To perform a tack, gybe, or change of sail maneuver that is "tiring", the skipper will need to use energy.
The energy level you have is displayed on the top right corner of the game interface, close to the name of your ship and the ranking:
The colors green - orange - red show your condition :

Green: You are on top form 😀
Orange: You are tired 🥱
Red: You are exhausted 😩
Energy consumption
The amount of energy spent depends on how difficult the maneuver is, the wind's strength, and your boat type. It is determined on the following basis:
Simple heading change: 0%

Tacking: 10%

Gybing: 10%

Sail changing: 20%
The energy consumption is shown when the maneuver is performed with the compass, using a program or a waypoint.

The Impact of your condition on maneuvers
The skipper's fatigue affects the time it takes to maneuver your boat:
100% energy, maneuver times are cut by half.

0% energy, maneuvering will require double the time.
Regardless of the energy level, the maneuvers can be done. The projection line of your route takes into account the estimated maneuvering times based on the expected condition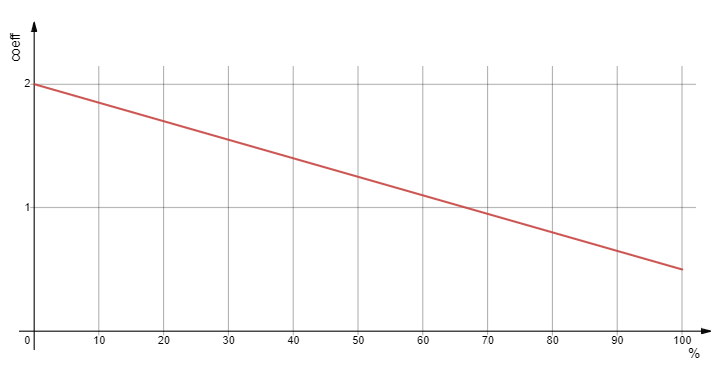 Impact of energy level (%) on time to maneuver (coeff)
What you need to know: The more energy you have, the faster the maneuvers will be performed (2 times faster at 100%). On the contrary, the more tired you are, the longer it will take to perform your maneuvers (2 times slower at 0%).
Impact of the weather on energy
Maneuvering in bad weather and good weather is definitely not the same!
In "big weather", maneuvering will require more energy.
Energy recovery
If you don't maneuver, your energy level regenerates on its own, more or less quickly depending on the current weather.
The stronger the wind is, the longer it takes you to recover energy (from 1% every 5 minutes at 0 knots of wind, up to 15 minutes in winds of 30 knots and more).
You will be able to restore your energy at the rate of 1 point approximately every 5 minutes and more depending on the weather: