The course of the race is lined with buoys you need to pass. The direction of passage is indicated by the white line that shows the course, as well by the animated arrows circling around the buoy: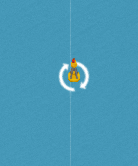 Once the passage has been validated, the buoy will change from orange to green within minutes. Don't panic if the passage is not taken into account immediately, it's normal.
If you have not sailed around the buoy correctly, it will not turn green. Your distance to finish will then increase as you move away from it. You will then have to turn back and sail around the buoy again.
Be careful: if you sail back to the buoy and go around it again in the other direction, it invalidates the passage and the buoy will become orange again. You will not be able to complete the race unless you validate each buoy.
When buoys are numbered, they must be passed in the order in which they are numbered.
To pass a buoy safely, it is advisable to use waypoints.
Trying to pass a buoy using the heading programmer can lead to unpleasant surprises!